'The Waters Guide'
Membership includes our exclusive Guide where each water is depicted on an A4 size, Ordnance Survey map with a full description on the reverse, including how to get there, access and parking, plus known species.
An interactive on-line Guide to Prince Albert Angling Society Waters, including maps and descriptions, is available to Members.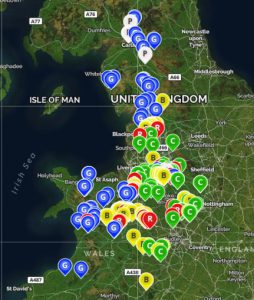 And not forgetting, membership includes a number of FREE visits each season to commercial trout fisheries, including:
Llyn Clewedog Powys – plus some wild brown trout and grayling fishing in the River Severn.
Ladybower Resrvior Derbyshire – including Howden and Derwent Reservoirs and half a mile of wild brown trout fishing on the River Derwent.
Foremark Reservoir South Derbyshire – including lure and fly fishing for pike and perch.
Blithfield Reservoir Staffordshire
Jay Farm Fishery Shropshire.
Llyn Bugeilyn Powys.
Llyn Trawsfynydd in Gwynedd – an any method fishery which includes coarse fishing for its famous big pike.
Lynn Brenig in North Wales
(Links to all of the above can be found on our 'Friends' page).